Grand Cayman Dive Resorts
An Updated Scuba Diving Guide 2023
When it comes to world-class diving experiences, Grand Cayman is a destination that tops the bucket list of many scuba enthusiasts but you would be surprised to know that there are only four (4) actual dive resorts in Grand Cayman, as of October 2023.  It is normally five (5) dive resorts but one was sold and is in the middle of renovations.  In this article, we will provide a concise guide of the Dive Resorts, provide costs and user ratings based on Google's reviews.  We would be remiss if we didn't include a dive resort in Cayman Brac so we are including that at the end.
The vibrant marine life, and breathtaking underwater landscapes make Grand Cayman a diver's paradise. To elevate your diving adventure, here is a list of dive resorts on Grand Cayman, each offering a unique experience.  You won't find a more updated list than this and we've only included actual Dive Resorts.   We have not included hotels or condos or other vacation rentals that do not cater specifically to Scuba divers. To be fair, a lot of the major diving operators provide valet services to and from your accommodations on Seven Mile Beach.  They will pick up and drop off so it is convenient either way.   The dive resorts cater specifically to individuals, couples or groups who visit Grand Cayman specifically to prioritize scuba diving.  Another important point is that, except for Compass Point, the dive resorts are located on iron shores, where the depths are immediately reasonable for diving, and you can easily go shore diving as soon as you wake up — staying at a dive resort normally provides unlimited shore diving but please check with your dive resort, first.   Accommodations along Seven Mile Beach are located on the beach and you would have to swim a couple of hundred yards out go deeper than 50 ft — its simply not as convenient to go shore diving. 
Aside from the convenience of shore diving, staying at a dive resort is also convenient for boat dives.  The best dive sites in Grand Cayman are accessible via boats and staying at a dive resort will enable you to be ready right there and then for when the boats leave.  You can also schedule your boat dives when staying at other accommodations but it is not as convenient as you have to consider pick up times and drop off and going back and forth to the location of the boat dock. 
Check out the dive resorts in Grand Cayman below.  For feedback, please contact us.
Ocean Cabanas Dive Resort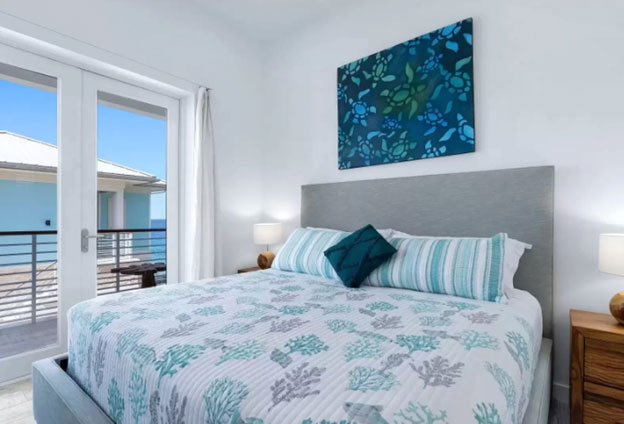 Image: Photo of a 1 bedroom, 1 bathroom suite in Ocean Cabanas
Rates: US$ 275 – 550 (low season) and US$ 400 – 700 (high season)
Google Reviews: 5 out of 5 Stars (24 Reviews)
Location: West Bay, Grand Cayman
Ocean Cabanas is the newest Dive Resort in Grand Cayman, completed in 2022 and fully operational today. Designed with Divers in mind, the resort offers seven fully equipped cabanas, including oceanfront two-bedroom and ocean-view one-bedroom options. Each cabana features king suites, Italian kitchens, living rooms, private outdoor spaces, and access to the resort's pool. Guests enjoy amenities like flat-screen TVs, BBQ grills, scuba gear drying racks, and fully equipped kitchens. Ocean Cabanas prioritizes a diver-friendly experience in a picturesque location on the West Point of Grand Cayman where shore diving is unlimited and  daily boat dives are scheduled in advance. Ocean Cabanas is owned and operated by Living the Dream Divers, the Most Awarded Scuba Diving Company in Grand Cayman.
Shore Diving Points:  Ocean Cabanas is located on the same shore diving location as Guardian of the Reef, a 17ft tall underwater bronze sculpture, located in about 70 ft of water.  This location also has two walls, a mini wall and a main wall.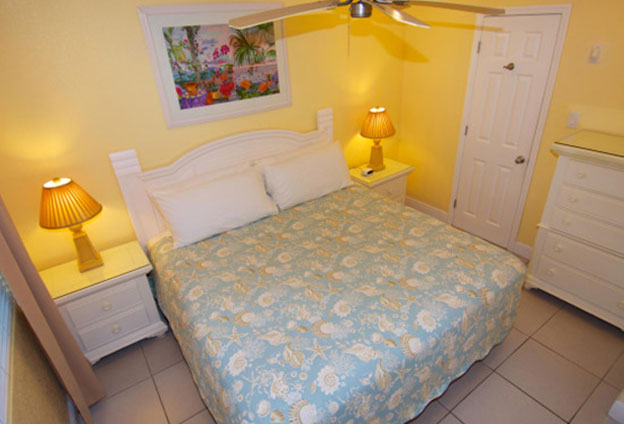 Compass Point Dive Resort
Image: Photo of 1 bedroom, 1 bathroom suite at Compass Point
Rates: No published rates, use the reservation form to the rates
Google Reviews: 4.8 out of 5 stars (132 Reviews)
Location: East End
Built in 1995, Compass Point Dive Resort on Grand Cayman offers a beachfront escape with a variety of accommodation options, including one and two-bedroom oceanfront condominiums. The resort features essential amenities in Building 3, including a Front Desk, Dive Shop, and Classroom, as well as a Dive Training Pool and the Eagle Rays Dive Bar & Grill in Building 4.Guests can relax by the Resort Style Swimming Pool, Jacuzzi Hot Tub, or beachfront shoreline with picnic areas and BBQ grills. Water activities are easily accessible from the Private Boat Dock, and the resort provides various amenities, including free Wi-Fi, HD cable TV, and complimentary use of kayaks and bicycles. Environmental sustainability is a priority, with features like solar heating, rainwater harvesting, and a linen re-use program in place.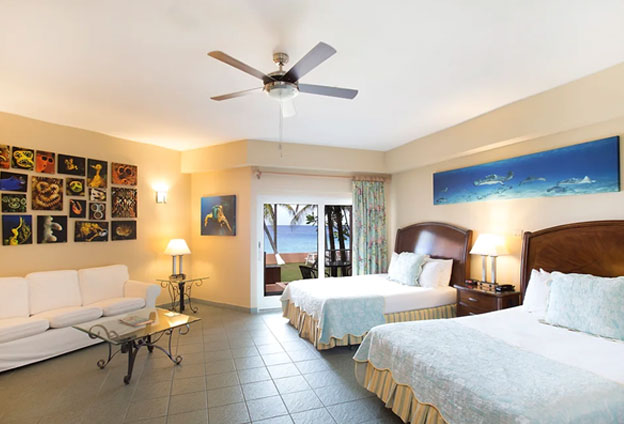 Image: Ocean View Suite, 2 queen beds
Rates: No published rates, use reservation form to get rates
Google Reviews: 4.5 out of 5 starts (150 Reviews)
Location: South Sound, George Town
Sunset House Dive Resort, a pioneer since 1960, is a true Grand Cayman institution. Located in George Town, this resort offers a unique blend of convenience and world-class diving. The famous "Sunset Reef" just off the shore is a must-see for underwater photographers and night divers. You can't go wrong with their dedicated dive operation.
Eds Note:  One of my favorite shore diving locations on Grand Cayman is definitely, Sunset House.  They have a sea pool, which makes it easy to go diving.  They also have the Mermaid statue, which is pretty cool.  I've also seen a Reef Shark about 200 meters away from shore.  Of course, at the time, it scared the hell out of me, but now, Im amazed at the experience.  Another thing to note, is the Restaurant on Sunset is the best place to hang out in after an afternoon dive.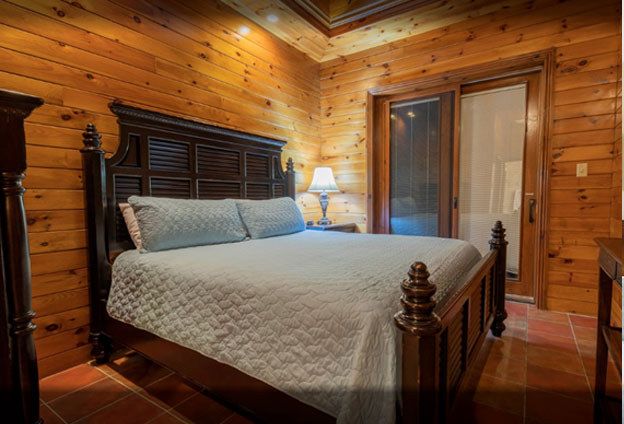 Lighthouse Point Dive Resort
Image: Bedroom from Lighthouse Point
Rates: Not published, you have inquire from info@divetech.com
Google Reviews: 5 out of 5 (13 reviews)
Location: West Bay
Lighthouse Point Resort is not exactly a dive resort, built in 2007, there is a dive company operating on the premises. So, if you want to roll out of bed and go diving, this is one of the places in Grand Cayman where you can do that. Dive into the pristine waters of Northwest Point Marine Park, home to vibrant coral formations and a rich variety of marine life.
Eds Note: DiveTech, a dive operator, operates from the Lighthouse Point and the residences are above it and beside it.  Its not a resort so you have to book them separately unless you go through the Dive Company, which can facilitate the booking for you. They can also facilitate quotes for you.
The last but not least is Cobalt Coast Dive Resort, but alas, they were sold and are not currently open.  We will update this once the new buyers open their dive resort!
Dive Resorts in Cayman Brac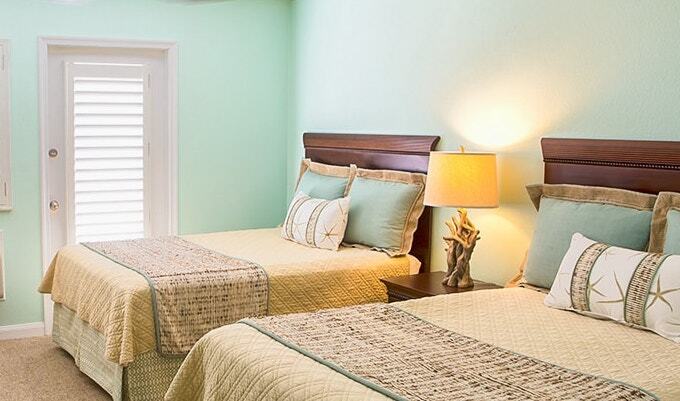 Image: Photo of a double bed room in Brac Resort
Rates: No published rates, Dive packages available on website
Google Reviews: 4.8 out of 5 stars
Location: Cayman Brac
In as much as we just wanted to talk about Grand Cayman Dive Resorts, we had to include Cayman Brac Reef Resort because its got a more authentic island-feel to it and if thats what you are looking for, this is it.

Cayman Brac Reef Resort is located in the West End of Cayman Brac, a mere 40-minute plane ride a way from Grand Cayman. It underwent a significant renovation in December 2015. This casual resort offers a variety of accommodations, all featuring beach and pool views, with options of one king or two double beds. The resort's two-story structure comprises 40 air-conditioned guest rooms equipped with amenities like ceiling fans, private bathrooms stocked with toiletries, towels for pool and beach use, small drip coffeemakers, closets with hangers, televisions, WiFi, and the availability of irons and ironing boards upon request.
Despite being a small resort, Cayman Brac Reef Resort boasts a range of guest amenities typically found in larger resorts. These include a waterfront Reef Divers shop, an extra-large freeform pool with a jetted hot tub, beach volleyball, a serene beach area furnished with lounge chairs and hammocks, an air-conditioned dining room with a screened porch for outdoor dining, and the Tipsy Turtle Bar, a two-floor open-air establishment offering lunch, dinner, and evening options, such as beverages, sandwiches, appetizers, and light meals.
In addition to these amenities, the resort's front desk can assist guests with car or scooter rentals, as well as provide information about local tours and attractions. There's also a meeting/conference room for business or special events, and a guest coin-operated laundry facility for added convenience. Cayman Brac Reef Resort offers a diverse range of experiences, whether you're looking to relax by the beach, explore the underwater world, or simply enjoy quality time with friends and family in a picturesque setting.